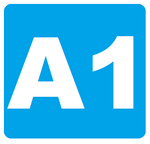 A1 is an autopista connecting San Serena with Adahuesca, San Ramon, and other areas of Ortega and Ponedera.
Route description
Edit
The autopista starts in the suburbs of Adahuesca, travelling through the city's suburbs. After leaving the city, the A1 follows the west coast of Prasian Island before turning inland through Ortega, passing nearby Sierra Jarosa National Park and through the towns of Montellano and Marchenilla. Leaving Ortega, the autopista enters San Serena through its western suburbs, passing nearby San Serena International Airport. There is then an exit nearer the centre of the city, close to Villa Mateo, where the autopista connects with the A101 and several smaller roads entering the city centre. After leaving the city, the A1 makes its way through Ponedera, mainly travelling along the southern coast of Prasian Island, before reaching the end of the island and turning inland towards San Ramon, where the autopista terminates.
Exit list
Edit
From east to west:
Ad blocker interference detected!
Wikia is a free-to-use site that makes money from advertising. We have a modified experience for viewers using ad blockers

Wikia is not accessible if you've made further modifications. Remove the custom ad blocker rule(s) and the page will load as expected.