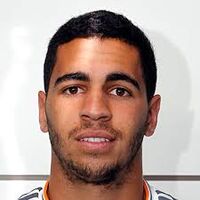 Adrian Barbosa (born 30 March, 1991) is a Prasian professional footballer who plays for Athletic San Ramon and the Prasia national football team as a central defender, however, he can play equally as well in the right back or right wing back positions. He is widely considered to be the star player of the national team and in many polls and surveys. He is also the current captain for his club.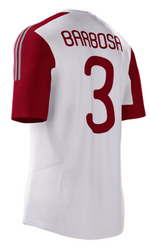 Born in a working-class borough of San Ramon, Adrian Barbosa started his career with Athletic San Ramon B. He was one of the most obscure youth players in the club's setup, however, very quick, he became one of the starts of the youth setup. He attracted interest from a variety of different clubs throughout Prasia, South America and even Europe. He became the captain of Athletic San Ramon B in 2008.
Following his brilliant performances for Athletic San Ramon B, he was promoted to the first team, Athletic San Ramon, who are widely considered to be the best football club in Prasia, winning the most titles. He attracted even more interest from a variety of clubs around the world, but remained playing for Athletic San Ramon. At the club, he was awarded the number 3 shirt, which he still wears to date. On his debut for the first team, he scored a powerful header making him one of the few defenders to score on their debuts in not only Prasia, but the world. His goal turned out to be the winning goal in a bitter match between the two largest football clubs in Prasia, Athletic San Ramon and Maritimo C.F.
He quickly became one of the star players for the club and took the large step to be widely considered as the best player of his club. Among critics, he became the star player for the Prasia national football team and has solidified his position. Surprisingly, Barbosa has netted a large amount of goals, because he has become the best penalty taker for both his club and the Prasia national football team. Since taking penalties for his club and country, many defenders around the world have started becoming the main penalty taker for their respective clubs.
National team
Edit
Adrian Barbosa is widely considered among critics as the star player for the Prasia national football team, however, Juan Pablo Gajcardo and Fernando Vargas were also named to be the best players. He usually plays the central defender role for his country, but on rare occasions, he plays as a right back. Surprisingly, he has earnt the role of main penalty taker for the national team, having never missed a penalty for both his club or country in his professional career.