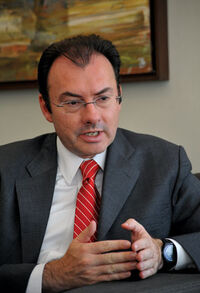 Alberto David Montoya (born August 11, 1970) is a Prasian politician, who is the current Minister of Business and Trade. Montoya is a Member of Congress for Ortega and a member of the Social Democratic Party, of which he has been touted as a potential future leader. Montoya was born in Horcajo, Ortega, and before entering politics, he was an economist.
In the Presidential election, 2012, Montoya unsuccessfully ran for his party's nomination, and later lost to Sofia Gimenez.
In September 2014, after Alonso Sanchez resigned as Prime Minister and leader of the PSD, Montoya announced his candidacy in the ensuing leadership election. Montoya ran for the election on a platform of unity within the party, between its socialist and progressive factions, and for economic stability and growth across the country. However, Cristian Ramirez, won.