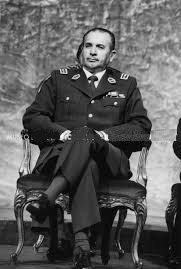 Alfredo Martin Salva (14 May 1896 - 9 December 1978) was a Prasian politician and general, who between 1965 and 1977 was the Mariscal y Jefe Supremo of Prasia, in which he combined the offices of both President and Prime Minister.
Biography
Edit
Salva was born in the rural village of Escamilla, Ponedera, to Alfredo Salva Sr., a labourer on a farm, and his wife, Ana. After leaving school at fourteen, Salva joined the army, and quickly rose up the ranks.
Salva's military dictatorship saw the imprisonment, execution or torture of approximately 1,000 people, as well as drastic privatisation measures, and the reduction of regional autonomy, with the dismissal of democratically elected regional governors in favour of Salva's own allies. Salva's dictatorship ended in 1977 due to his ailing health, following a series of strokes. Salva was subsequently placed under house arrest, where he died the following year. He was buried in an unmarked grave in his hometown in rural Ponedera.
Salva was married to Isabel Torsedillas Garay from 1923, until their divorce in 1932. Salva and Torsedillas had two children, Juan (1927) and Sofia (1929). In 1959, Salva married the much younger Aurelia Gallardo, with whom he had three more children; Antonio (1960) , Miguel and Maria (1964). Salva owned a Carona C8 limousine during his time in power.
Ad blocker interference detected!
Wikia is a free-to-use site that makes money from advertising. We have a modified experience for viewers using ad blockers

Wikia is not accessible if you've made further modifications. Remove the custom ad blocker rule(s) and the page will load as expected.