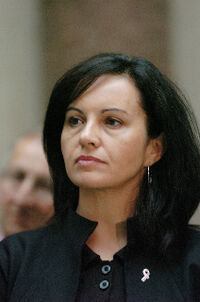 Carmen Irene Alvarez (born September 1, 1962) is a Prasian politician and journalist, who is the current deputy leader of the Conservative Centrist Party, and the Congressmember for Villa Mateo. Alvarez was born into an upper middle class family in Aravaca, San Serena and after studying English and Journalism at the Universidad de San Serena, Alvarez worked as a journalist for La Republica. She entered politics in 1997, being elected to Congress and later becoming Minister of Culture in Pilar Ortiz's government.
Alvarez is married with a daughter, and lives in Villa Mateo. She is usually considered as one of the more liberal members of the Conservative Centrist Party, and is a senior member of the centrist, libertarian faction.
Ad blocker interference detected!
Wikia is a free-to-use site that makes money from advertising. We have a modified experience for viewers using ad blockers

Wikia is not accessible if you've made further modifications. Remove the custom ad blocker rule(s) and the page will load as expected.