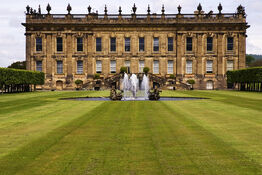 Castillo Mendoza is a palace in Marchenilla, Ortega that serves as the countryside residence of the President. The palace was built in. The palace has also played host to a number of international summits over the years, and is one of the places where the President traditionally welcomes foreign dignitaries. The 4th IWO summit was held here in August 2016.
The palace is also known for its gardens, which along with the palace, are a popular tourist destination when the President is not residing at the palace.
Ad blocker interference detected!
Wikia is a free-to-use site that makes money from advertising. We have a modified experience for viewers using ad blockers

Wikia is not accessible if you've made further modifications. Remove the custom ad blocker rule(s) and the page will load as expected.