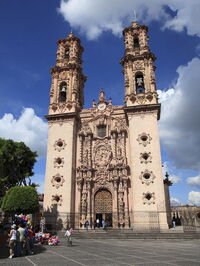 Cerques is a town in southern Valderejo, near Sierra Jarosa National Park. The town was founded in 1591 by a group of settlers from Traspes, led by Felipe Suárez de Bordas and is named after the Traspesian city of the same name.
Cerques still retains many of its historical buildings and squares from the colonial period, including the town's central market square and the town's largest church, where Suarez de Bordas is buried.
Due to the fact that the town is situated close to the Sierra Jarosa National Park and the famous vineyards at the foothills of the mountains, the town is renowned for its winemakers and is a popular stopover for tourists visiting the national park.