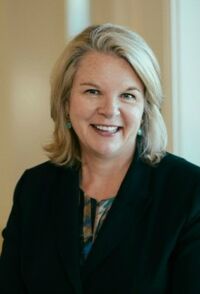 Claudia Sanchez Camacho (born April 8, 1964) is a Prasian lawyer, and the wife of incumbent Prime Minister Alonso Sanchez. Camacho was born in Villa García, San Serena to Javier and Cristina Camacho, and studied Law at the Universidad de San Serena. Later, Camacho worked at a left-wing think tank where she met her future husband, and following this worked as a lawyer in San Serena, specialising in employment and property law.
As her husband rose to political prominence, she continued her work as a lawyer. Shortly before his election as Prime Minister, Camacho said that whilst she would be prepared to assist her husband with his campaigns, she wasn't prepared to put his career before hers. Since his election, Camacho has taken up some official duties with her husband, whilst continuing to work part-time.
Some sources close to Camacho have rumoured that she might embark on a political career in the near future, possibly as a congresswoman or as a Governor. However, in a 2013 interview, Camacho said that whilst "she wouldn't rule out starting a political career in the long run, it would be a while yet before she would be prepared to make such a move".
Camacho and her husband have four children: Miguel (born 1998), Ana (born 2000), Carmen (born 2003) and Manuel (born 2006).
Ad blocker interference detected!
Wikia is a free-to-use site that makes money from advertising. We have a modified experience for viewers using ad blockers

Wikia is not accessible if you've made further modifications. Remove the custom ad blocker rule(s) and the page will load as expected.