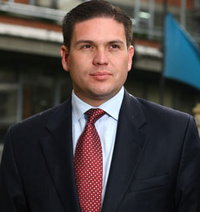 Cristian Ramirez Gomez (born June 18, 1973) is a Prasian politician and diplomat and the incumbent Prime Minister of Prasia. Ramirez was previously the Minister of Foreign Affairs between 2010 and 2014. Ramirez is the leader of the Social Democratic Party and a Member of Congress for San Serena.
Biography
Edit
Ramirez was born in Villa Bartolome, Adahuesca, and studied at the Universidad de San Serena. In 1995, he graduated from the university with a degree in Political Science and International Relations. Ramirez then joined Prasia's diplomatic service, working in Buenos Aires and Santiago in senior posts at Prasia's embassies. After ten years working as a diplomat across Latin America and Europe, Ramirez returned to Prasia to pursue a political career, and was first elected to Congress at the General election, 2005. Soon after the election, Ramirez took on duties at the Ministry of Foreign Affairs, under Sofia Gimenez, who he would later succeed as Minister.
After the General election, 2010, Ramirez replaced Gimenez as Minister of Foreign Affairs. During his tenure as a Minister, Ramirez has overseen Prasia's entry to the IWO as an associate member. In September 2014, after Alonso Sanchez resigned as Prime Minister and leader of the PSD, Ramirez announced his candidacy in the ensuing leadership election. He won the election, winning 55% of the second round vote, and became Prime Minister on September 26, 2014, leading the Ramirez I Government.
Ramirez lives in San Serena with his wife, Agustina Tejada Garcia, and their daughter, Gabriela, who was born in 2009.