F.C. Catarina is a Prasian football club playing in Alvear, Catarina. The team is partnered with Brunanter team Cape Cross FC, allowing them to get Cape Cross players and vice versa. The club have Visit Brunant as their sponsors.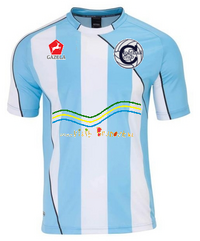 F.C. Catarina was founded in 1976 and they play in the First Division since 1988. F.C. Catarina was the direct successor of Club Deportivo Alvear de Catarina, an amateur team founded in 1922. The club are mildly successful, having won two league titles.
Recent years
Edit
The club signed Cape Cross FC midfielder Alexander Brunne for 900,000 euros as they plan to bolster their squad with experienced players. In 2013, they also signed Michael Campbell.
Youth academy
Edit
F.C. Catarina is known for it's good youth academy. A number of youth players have gone on to successful careers in other Prasian clubs as well as Catarina.
Notable former players
Edit
Honors and recorda
Edit
Ad blocker interference detected!
Wikia is a free-to-use site that makes money from advertising. We have a modified experience for viewers using ad blockers

Wikia is not accessible if you've made further modifications. Remove the custom ad blocker rule(s) and the page will load as expected.