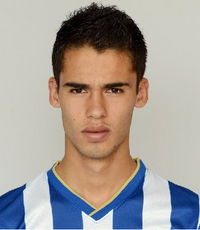 Fernando Vargas (born November 15, 1984) is a Prasian footballer, currently playing for Maritimo C.F in the First Division, as well as the national team. Vargas plays as a centre forward, although also occasionally also plays as an attacking midfielder or a winger.
Vargas has been married to Prasian actress and model Natalia Romero Vargas since 2010. The couple have one son, Daniel, who was born in 2011. The couple lives in Villa García, San Serena.
Ad blocker interference detected!
Wikia is a free-to-use site that makes money from advertising. We have a modified experience for viewers using ad blockers

Wikia is not accessible if you've made further modifications. Remove the custom ad blocker rule(s) and the page will load as expected.