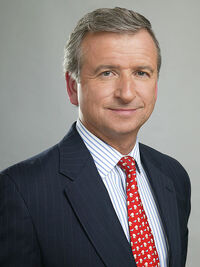 Gonzalo Romero Mora (born February 11, 1956) is a Prasian politician, who served as President between 2000 and 2008. Mora is a member of the Conservative Centrist Party, and before becoming President was a Senator for Valderejo, and a senior member of the government of Pilar Ortiz.
Mora is married to economist Nuria Bascuñán Mora, and the couple have four children and three grandchildren.
Ad blocker interference detected!
Wikia is a free-to-use site that makes money from advertising. We have a modified experience for viewers using ad blockers

Wikia is not accessible if you've made further modifications. Remove the custom ad blocker rule(s) and the page will load as expected.