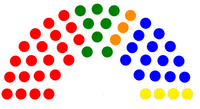 The House of Representatives (Spanish: Cámara de Representantes) is the lower house of the Congress. There are currently 50 deputies in the house.
Bills originate in the House of Representatives and are debated and voted upon by its members. Bills which win a majority of support in the House of Representatives move to the Senate, who in turn debate and vote the bills. Bills which meet a majority of support in the Senate are given to the President, although this is largely a formality.
Current composition
Edit
The last elections to the House of Representatives took place during the General election, 2010. The Social Democratic Party won 21 seats, but this was not enough for an overall majority, so they formed a coalition with the Green Party. The main opposition are the Conservative Centrist Party, with 14 seats in the house.