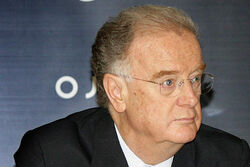 José Manuel Barrera (born June 8, 1937) is a Prasian politician, who served as Prime Minister between 1990 and 1995 and leader of the Social Democratic Party between 1990 and 1995.
As a young congressman for the Liberal Party, Barrera played a role in assisting the foundation of the Social Democratic Party. While Prime Minister, Barrera attracted criticism from some socialist factions of his party who felt his centre-left, liberal positions were not truly representative of the party.
Barrera succeeded Luis Rodriguez as Prime Minister due to being more moderate and having support of most parties in congress.
He is a member of the Club of Wikistad since 2016, but could not attend the 2017 meeting due to his health.