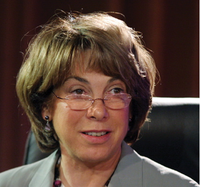 Lorena Trevino Acosta (born March 8, 1948) is a Prasian politician and actress, who is currently a deputy in the House of Representatives for the Union for Progress and Democracy, representing San Luis.
Trevino was born into a working class Italian immigrant family in San Luis and became interested in acting from a young age. Trevino became an actress in 1969, playing minor parts in several popular Prasian films. She later became one of the most famous Prasian actresses of all time, taking up roles in many successful Prasian films, a few of which went on to become popular in Latin America and the United States.
Trevino, a lifelong liberal, retired from acting in 2002 to start a political career as a member of the Union for Progress and Democracy. She unsuccessfully stood as a Congressional candidate in the General election, 2005, but became a deputy at the next general election, representing San Luis.
Ad blocker interference detected!
Wikia is a free-to-use site that makes money from advertising. We have a modified experience for viewers using ad blockers

Wikia is not accessible if you've made further modifications. Remove the custom ad blocker rule(s) and the page will load as expected.