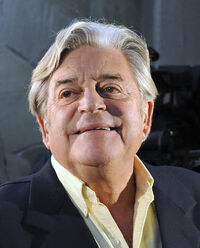 Luis Rodriguez Covas (born February 10, 1940) is a Prasian politician, who served as Prime Minister between 1985 and 1990. He is a member of the Social Democratic Party.
Rodriguez was elected Prime Minister in 1985, succeeding the previous conservative Prime Minister Vicente Navarro. Rodriguez was the second democratically elected Prime Minister after the regimes of Alfredo Salva and later Juan Marquez. During Rodriguez's time as Prime Minister, this democracy and stability continued. However, for much of his tenure there were concerns from conservative politicians about some of the socialist policies that Rodriguez's government implemented. Because of this, Rodriguez was ousted by the PSD and replaced by José Manuel Barrera, a centre-left progressive politician, shortly before the General election, 1990.
Ad blocker interference detected!
Wikia is a free-to-use site that makes money from advertising. We have a modified experience for viewers using ad blockers

Wikia is not accessible if you've made further modifications. Remove the custom ad blocker rule(s) and the page will load as expected.