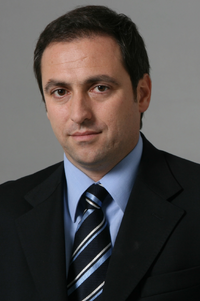 Luis Javier Vega Blanco (born April 8, 1969) is a Prasian politician and the incumbent Governor of Ortega. Vega is a member of the Conservative Centrist Party. Before being elected as Governor in 2012, Vega was a diputado in the Legislatura de la Ortega.
As a popular governor in Ortega and a key figure within his party, Vega has expressed an interest in running in the Presidential election, 2016. Eventually, he lost the campaign against incumbent President Sofia Gimenez.
Ad blocker interference detected!
Wikia is a free-to-use site that makes money from advertising. We have a modified experience for viewers using ad blockers

Wikia is not accessible if you've made further modifications. Remove the custom ad blocker rule(s) and the page will load as expected.