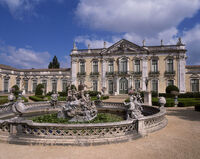 The Palacio Echeverria is a palace located in San Rafael, San Luis, which is the official residence of the President. The palace was built in 1801 and has been the official residence of the President since 1833. Palacio Echeverria is one of the most famous monuments in San Luis and thousands of tourists come each year to visit the palace's gardens and the small section of the palace that is open to the public.
Ad blocker interference detected!
Wikia is a free-to-use site that makes money from advertising. We have a modified experience for viewers using ad blockers

Wikia is not accessible if you've made further modifications. Remove the custom ad blocker rule(s) and the page will load as expected.