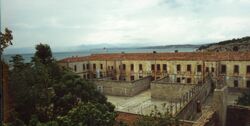 Peralveche is a Prasian island off the coast of Catarina, approximately 13 miles from the mainland. Peralveche was uninhabited until the 1940s, when Manuel Vazquez ordered the construction of a maximum security prison on the island.
Between 1941 and 1945, hundreds of political opponents of Vazquez's regime were imprisoned on the island. After Vazquez was deposed, the prison remained unused a decade, until it was used by Alfredo Salva to imprison opponents of his regime, including hundreds of leftist intellectuals, students and protestors. In 1969, part of the prison burned down in a fire caused by rioting inmates.
The prison was finally closed in 1978 after the fall of Salva's regime. It lay abandoned for more than a decade, until the prison was opened as a museum in 1992. In the present day, the prison is a popular destination for tourists, who can take boat trips to the island from Alvear.
Aside from the infamous prison, the island is also known as a home for several species of endangered birds.
In popular culture
Edit
The popular film, La Cuchara Sangrienta, is a dramatised version of the true events at the prison during the early 1970s.
Ad blocker interference detected!
Wikia is a free-to-use site that makes money from advertising. We have a modified experience for viewers using ad blockers

Wikia is not accessible if you've made further modifications. Remove the custom ad blocker rule(s) and the page will load as expected.