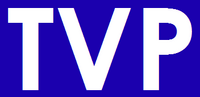 Television Prasiana (TVP) is a state-funded television network in Prasia, founded in 1960. TVP currently operates four channels of which the first, TVP 1, is the largest television channel in Prasia by viewership numbers.

TVP's oldest channel and the most viewed television channel in Prasia, according to viewership figures is TVP 1. TVP broadcasts mainstream comedy, drama, documentaries and news. TVP 1 also airs three national news bulletins each day, at 11:00am, 6:00pm and 10:00pm.

TVP 2 airs many similar programs to TVP 1, including news bulletins, but with more of a focus on comedy, drama and documentaries. TVP 2 also airs more imported programs than TVP 1, mainly from Latin America, Spain and Traspes, although some dubbed American programs are also aired.

TVP 3 airs exclusively airs entertainment programs, including original Prasian dramas and sitcoms. TVP 3 also airs many imported programs from the United States and Europe, dubbed or subtitled into Spanish.

TVP's newest channel, launched in 1997. TVP 4 mainly broadcasts sport and entertainment, including First Division and international football, as well as a large variety of new, upcoming Prasian programs, many of which are commissioned and produced by TVP itself.
TVP offers a free, online catch up service, with which viewers can watch live TVP broadcasts and all programs aired on TVP's channels during the last fourteen days.